Let's Talk About Shackles
Suncor manufactures USA made shackles, components, pins, and bolts for all marine, industrial, and architectural needs. Our USA made shackles consistently meet and exceed the requirements of the most demanding applications. Our wide selection of stainless steel shackles will not only meet your requirements but will exceed your expectations!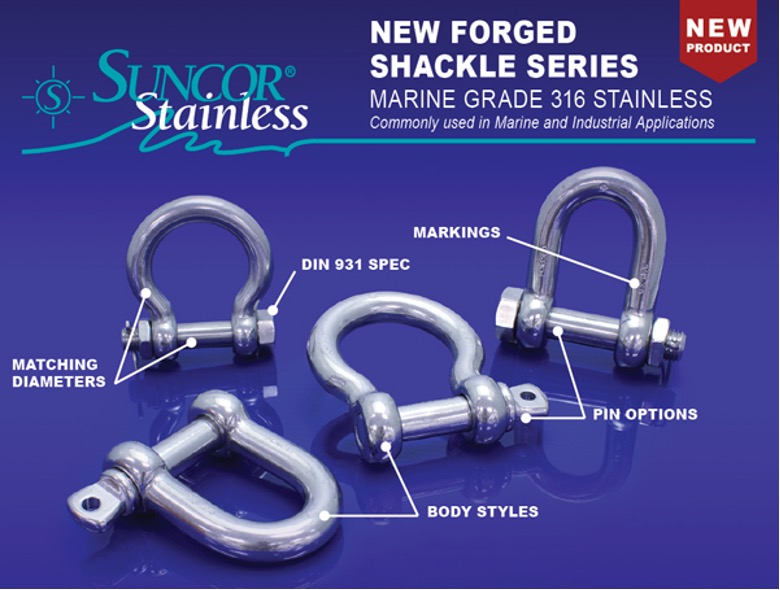 Selecting a Shackle
Shackles come in a variety of options. Choosing the right stainless steel shackle for the job is critical. At Suncor, our team can help guide you in the right direction when deciding on your stainless steel shackles. There are multiple factors to go over when deciding what shackle goes with which job. This will include size, workload, shape, and use. It is also important to think about corrosion resistance and maintenance. Check out our article on maximizing product life on our website!
Suncor® Stainless NEW Forged Shackle Series
Suncor's new line of shackles are forged resulting in better fatigue strength for a longer product life, higher strength due to manufacturing process, and harder material for better wear. Made from 316 stainless steel for maximum corrosion resistance and durability to withstand harsh environments. The new forged shackles series is a key component used in the Pullpro™ pulley block program. Learn more details about the new forged shackles on our website!
Shackles For Lifting
We always recommend our customers consult with an engineer, rigging professional, or qualified personnel when selecting an item for lifting. Contact our team with any questions or requirements you may have when choosing the right stainless steel shackle. We are more than happy to help. It is also important to note that you should NEVER exceed the working limit! Only forged products should be considered when choosing a stainless steel product for lifting. You should always avoid shock loads and ensure components are matched properly.
As an ISO 9001:2015-certified company, we are consistently implementing mandatory quality inspections and processes. Proof load testing is a part of our process and is recommended for any product evaluated for lifting applications. Again, you can always contact us for more information about this service. You can also check out our article on our testing services!

SUNCOR STAINLESS: THE LEADING MANUFACTURER OF STAINLESS STEEL HARDWARE AND COMPONENTS.
To learn more about the world's most complete and highest quality sources for stainless steel hardware and custom parts – visit our Suncor Stainless website. This Plymouth, MA-based company offers a variety of the highest quality stainless steel hardware for industrial, marine, architectural, commercial, government, and OEM markets.
For more information on our stainless steel hardware and custom parts, you may contact Suncor Stainless at 1-800-394-2222 or by completing the Contact Us Form.