Deciding The Right Anchor For You
When your boat does not come equipped with an anchor, it is important to decide on which one you will need on board. Anchors are vital to keeping a vessel in one place, they help combat wind and currents that will cause the vessel to move off course. It is also important to consider anchor chain sizing which you can find in our chart highlighted below.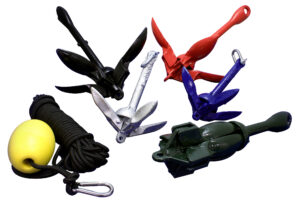 Grapnel Anchors
A Grapnel Anchor has metal arms that consist of multiple shorter pointed arms known as tines that grip onto the surface of the ocean bed. This makes it ideal for rough bottom structures that have several ridges or cracks providing places for the tines to hold on to. The tines typically fold up along the shank so that the anchor is more compact for stowage. Grapnel anchors can be used for multiple functions and come in many different sizes. You will find grapnel anchors used for sailboats, inflatable boats, canoes, and flat tubes. Check out our sell sheet on Grapnel Anchors to learn more!
Claw Anchors
Claw Anchors are non-folding anchor that is similar to a plow anchor but has a broader scoop shape that works well in mud, clay, or sandy bottoms. Claw Anchors are strong enough to hold onto a rocky bottom. These may not work well on a very hard bottom or thick vegetation. They can re-set quickly if the wind changes.
Hook Anchors
A Hook Anchor features four fixed prongs and a round ring for easy attachment to chain or rope. These anchors are ideal as a small boat anchors, and can also be used with dinghies, jet skis, canoes, and kayaks.
There are many other types of boat anchors such as a Mushroom Anchor, Permanent Anchors, Plow Anchor, and many more. When you have a better idea of what type and size of anchor you need for your boat, it is always important to do your research and explore all your options.
Anchor Chain Sizing
Boat length can be a great starting point when determining which size anchor is appropriate for your boat. Check out our Anchor Chain Size Chart to determine what size anchor you need for your application. The length, weight, and diameter of the chain are always important factors when deciding on the chain size for your anchor. Safety is always the number one priority in any product or application you are using and it is important to always take the correct procedures and research on your marine needs!
SUNCOR STAINLESS: THE LEADING MANUFACTURER OF STAINLESS STEEL HARDWARE AND COMPONENTS.
To learn more about the world's most complete and highest quality sources for stainless steel hardware and custom parts – visit our Suncor Stainless website. This Plymouth, MA-based company offers a variety of the highest quality stainless steel hardware for industrial, marine, architectural, commercial, government, and OEM markets.
For more information on our stainless steel hardware and custom parts, you may contact Suncor Stainless at 1-800-394-2222 or by completing the Contact Us Form.
Sources:
https://www.marineinsight.com/naval-architecture/a-guide-to-types-of-anchors/
https://www.discoverboating.com/resources/types-of-boat-anchors