Let's Talk About Stainless Steel Turnbuckles
At Suncor® Stainless, we manufacture one of the most extensive and versatile product lines of stainless steel turnbuckles and turnbuckle hardware. We feature standard, machine swage, hand swage, and mechanical swage turnbuckles. They are ideal for marine, industrial, and architectural projects and feature jaws, hooks, stubs, and open or closed body styles.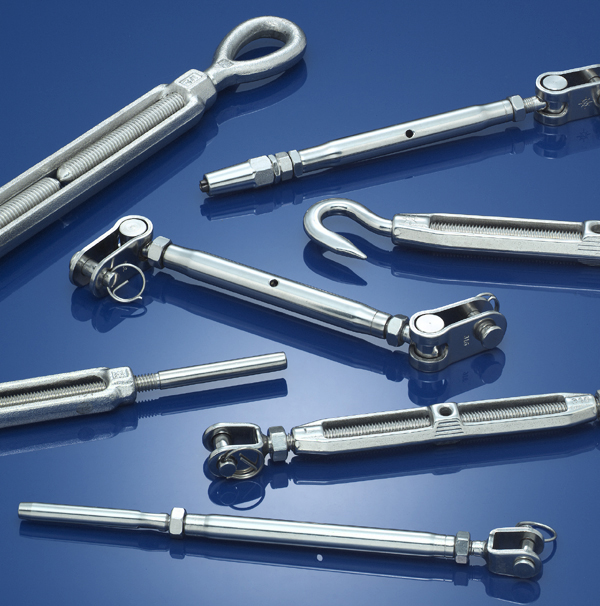 Mechanical Swage Turnbuckles
The Quick Attach™ line of mechanical swage turnbuckles includes wall mounts, toggles, and jaws. The compression fitting offers a quick and easy installation using simple hand tools. These turnbuckles are made from stainless steel for corrosion resistance and durability.
Machine Swage Turnbuckles
At Suncor, we offer a variety of machine swage turnbuckles to fit many marine, industrial and architectural projects. These turnbuckles feature swage studs, jaws, toggles, wall mounts, and open or closed body styles.
Hand Swage Turnbuckles
Stainless steel hand swage turnbuckles are ideal for marine and architectural applications. These fittings are offered with hand swage studs, toggles, gate eyes, and wall mounts. They also feature open and closed body styles and are made from stainless steel.
Miscellaneous Turnbuckles & Accessories
Miscellaneous turnbuckles and accessories include rigging toggles, threaded and unthreaded yoke ends. We also offer custom threading for yoke ends in UNC and UNF threads. Many of these items are grade 316 stainless steel for maximum corrosion resistance and durability.
You can check out our full product line of turnbuckles within our website and learn more information on our products and services.
SUNCOR STAINLESS: THE LEADING MANUFACTURER OF STAINLESS STEEL HARDWARE AND COMPONENTS.
To learn more about the world's most complete and highest quality sources for stainless steel hardware and custom parts – visit our Suncor Stainless website. This Plymouth, MA-based company offers a variety of the highest quality stainless steel hardware for industrial, marine, architectural, commercial, government, and OEM markets.
For more information on our stainless steel hardware and custom parts, you may contact Suncor Stainless at 1-800-394-2222 or by completing the Contact Us Form.