Safety In The Warehouse
Safety is one of Suncor's highest priorities for our employees and customers! The warehouse is what keeps us moving at Suncor Stainless and it is important to understand all rules and regulations to keep everyone safe. To ensure a safe work environment, it is important to follow guidelines and industry best practices to reinforce safe behavior when working in warehouses. Did you know OSHA revealed that the fatal injury rate for the warehousing industry is higher than the national average for all industries? From heavy machinery to health hazards, we will discuss what you can do to keep safety priority number one!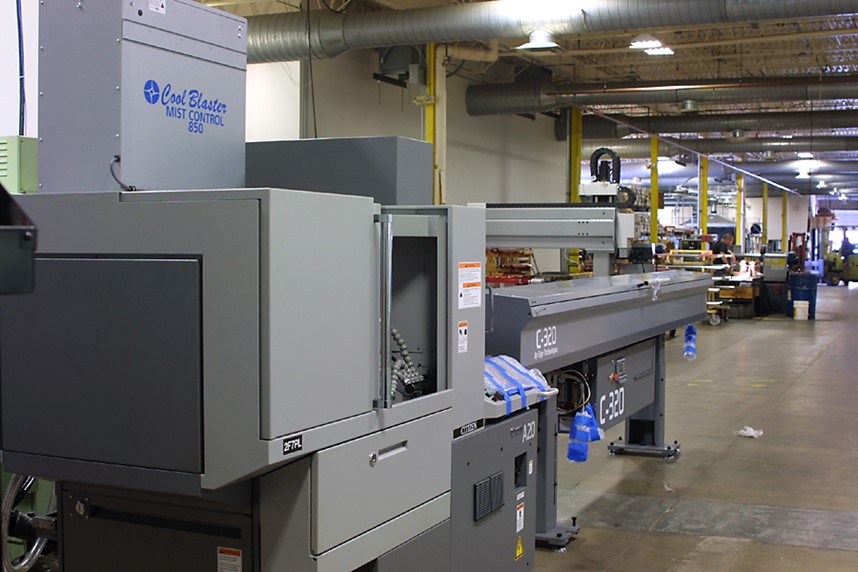 Safety in Heavy Machinery
Heavy equipment produces many opportunities for injury. You should always make sure equipment is properly maintained and in good working condition. Employees should always have training and are educated on the use of working with and around heavy equipment. Awareness and communication are of the utmost importance for employees to understand spotter signals, create buffer zones, and know when to stop.
Forklifts are common and critical pieces of equipment used in warehousing and storage facilities. If used incorrectly, forklifts can cause serious damage to operators, nearby workers, and property. OSHA states that forklifts are the most often cited hazard in warehousing operations. Let's take a look at a few rules in order to prevent a dangerous and avoidable scenario. Ensure all forklift operators are competent and have completed certified training. Perform regular refresher training and evaluation to keep unsafe practices from happening. Lastly, perform daily pre-start forklift equipment inspections to check for controls and equipment damage.
Conveyors are commonly used in the transportation of goods from warehouse to warehouse. They can also cause a dangerous situation including getting caught in equipment and being stuck by falling objects. Take a look at these tips to ensure warehouse safety. Ensure proper safeguarding equipment between the conveyor and the worker to protect against the entanglement of clothing, body parts, and hair. Follow proper lockout tag-out procedures during conveyor maintenance and repairs. Lockout tagout is a protection system against unintentional exposure to hazardous energy from equipment and machinery. LOTO reduces the risk of accidents and injuries!
Safety in Hazardous Materials
Solvents, flammable substances, and carcinogens are some of the harmful substances that can cause injury or death at work. Hazard communication is key when it comes to hazardous materials. Always provide safety equipment such as eye and mouth protection as well as respiratory aids when required. Make sure you and your employees know how to store potentially harmful substances correctly. Check out these five tips to ensure your workers are storing hazardous materials correctly and safely.
Assess risks and plan ahead
Provide adequate PPE and information materials
Focus on safe hazardous materials storage
Train employees regularly
Work with supply chain partners
Safety in your Warehouse
The rules and guidelines do not stop here! We have only covered a small part of what keeps your warehouse and employees safe. Improving warehouse safety takes small but consistent actions done by everyone in every area of warehouse operations. Always have the required certifications, consistent training, and regular warehouse safety meetings to build a safety culture from the ground up.
You should always provide workers training on hazard awareness, conduct safety inspections, and implement warehouse safety measures to help maintain a safe, secure, and healthy working environment. Awareness and communication help prevent workplace injuries and should be practiced every day!
SUNCOR STAINLESS: THE LEADING MANUFACTURER OF STAINLESS STEEL HARDWARE AND COMPONENTS.
To learn more about the world's most complete and highest quality sources for stainless steel hardware and custom parts – visit our Suncor Stainless website. This Plymouth, MA-based company offers a variety of the highest quality stainless steel hardware for industrial, marine, architectural, commercial, government, and OEM markets.
For more information on our stainless steel hardware and custom parts, you may contact Suncor Stainless at 1-800-394-2222 or by completing the Contact Us Form.
Sources:
https://safetyculture.com/topics/warehouse-safety/
https://adrianssafetysolutions.com/blog/top-10-warehouse-safety-hazards/
https://www.redwoodlogistics.com/warehouse-safety-5-tips-for-handling-hazardous-materials/#:~:text=Focus%20on%20Safe%20Hazardous%20Materials%20Storage&text=Create%20a%20designated%20storage%20area,for%20each%20material%20being%20stored