Stainless Steel Wire Rope Clips
Suncor's wire rope clips and clamps are available in sizes ranging from 1/16″ to 1-1/4″ for all projects, large or small. They are made from grade 316 or grade 304 stainless steel for corrosion resistance and durability and are ideal for marine, industrial and architectural wire rope projects.
We also offer a complete line of wire rope tools and stainless steel accessories including wire rope cutters, thimbles and turnbuckles. For more information, be sure to read our helpful Wire Rope Load Limit and Turnback Guide.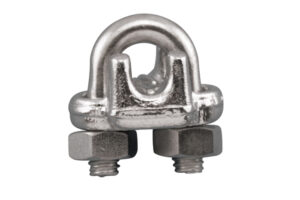 Grade: 316-NM Stainless Steel