Let's Talk About Webbing Assemblies
Suncor® Stainless manufactures a complete line of webbing assemblies and stainless steel webbing hardware for industrial and marine applications. Suncor's webbing assembles are available in a variety of combinations including hooks, clips, and loops. We also provide ratchet assemblies, cover tie-downs, hanging kits, and strap kits for marine, industrial, and everyday use. At Suncor, we also give you custom options. Our webbing department offers custom webbing services and features automated sewing machines. Webbing comes in three different widths and lengths that can be cut to your dimensions and specifications.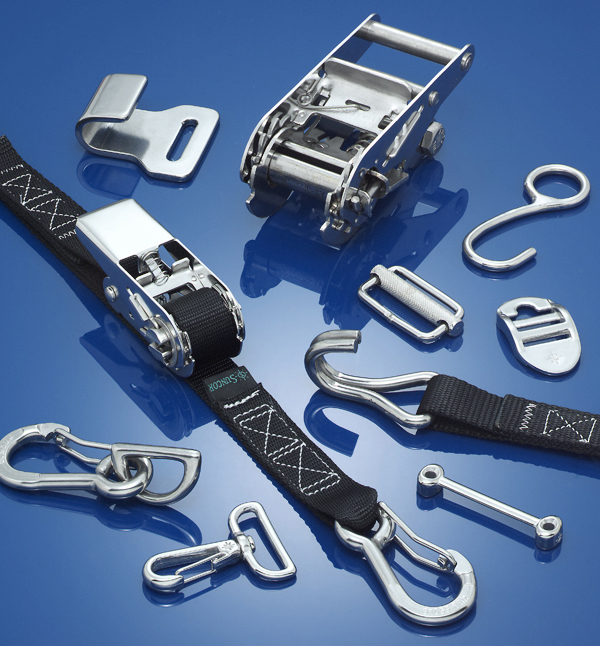 Ratchet Webbing Assemblies
Heavy-duty ratchet assemblies are perfect for hauling cargo or equipment. They are the only choice to ensure safety and proper load management. We have a variety of hardware options including Wire Lever Harness Clips, Flat Hooks, J Hooks, S Hooks, and Endless. Not all ratchet assemblies are created equal. Be sure to secure your cargo with a high quality, heavy duty, and long lasting ratchet assembly.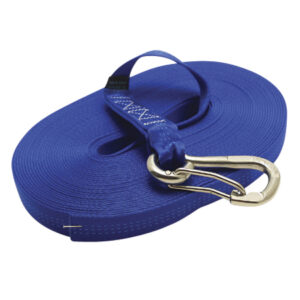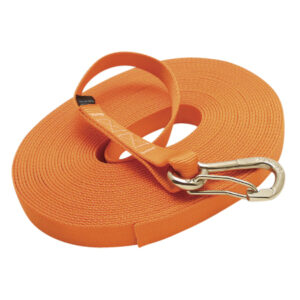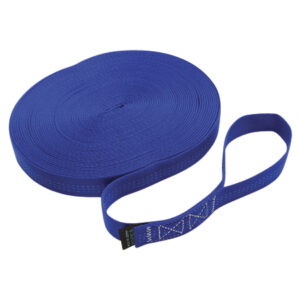 Jackline Assemblies
Jackline assemblies offer safety and security while being on boat decks. We offer single and double jacklines, these jackline kits are available in three lengths from 35' to 55'. Our single and double jacklines are also offered with a 316 stainless steel, heavy, duty harness clip for corrosion resistance.
Specialty Straps
Suncor's specialty straps are ideal for marine and industrial applications. Suncor offers custom webbing services to fit your specific needs. Our skilled Webbing Department provides quick turnaround on even the most complicated custom assemblies. Lengths can be cut to your dimensions and specifications, visit our Webbing Assemblies and Webbing Hardware pages to see the variety of assemblies and components that we offer. Webbing options include orange nylon, blue tubular nylon, black nylon, white nylon, and light blue polyester.
SUNCOR STAINLESS: THE LEADING MANUFACTURER OF STAINLESS STEEL HARDWARE AND COMPONENTS.
To learn more about the world's most complete and highest quality sources for stainless steel hardware and custom parts – visit our Suncor Stainless website. This Plymouth, MA-based company offers a variety of the highest quality stainless steel hardware for industrial, marine, architectural, commercial, government, and OEM markets.
For more information on our stainless steel hardware and custom parts, you may contact Suncor Stainless at 1-800-394-2222 or by completing the Contact Us Form.