Proud Members of the NACM
The National Association of Chain Manufacturers (NACM) represents domestic manufactures of welded and weldless chain since 1933. They provide members a wide range of chain products such as tire chain, Grade 80 and Grade 100 chain, galvanized chain, stainless steel chain, double loop chain, décor chain, and tow chain. Suncor Stainless is proud to be a part of one of the oldest industrial trade associations in the USA.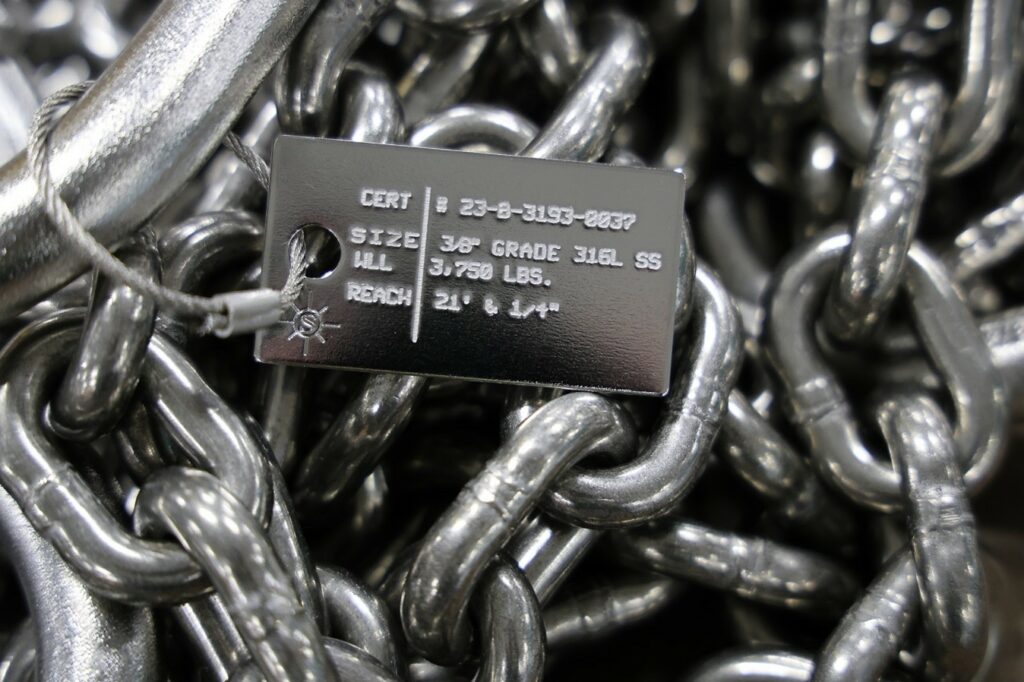 About the NACM Members
The NACM member firms are defined as companies that have been manufacturing chain in the United States for a period of at least two years. Most of the members have been in business a lot longer than eight decades; several have been making chains for more than a century. Today, NACM maintains an interface with several other federal agencies. Visit the NACM website to learn more!
The Three Governing Bodies of USA Chain Manufactures
The three governing bodies of USA Chain Manufactures are OSHA, ASME & ASTM. These safety standards in manufacturing are set in place to help ensure the safety of the employees and the quality of the chains they manufacture.
OSHA – OSHA is a statutory document. Whatever is stated within OSHA is a legal requirement.
ASME – ASME (The American Society of Mechanical Engineers) is a Consensus Document that establishes safety and quality standards within the chain industry.
ASTM – ASTM (American Society for Testing and Materials) is very similar to ASME. The committees are comprised of similar individuals and the scope is similar. Where ASME's focus is on assembly and application Standards, ASTM's focus is primarily on the manufacturing of chain.
As a proud member of the NACM! Suncor Stainless manufactures and stocks a large inventory of rated, industrial, MIL-DTL-32655, marine, light duty, decorative and specialty chain, and thousands of accessories. With our specialty automated welding and the highest quality materials, we produce consistent and unmatched reliability! We also specialize in custom fabrication combining welding services, slings, testing, and custom assemblies for all requirements. Request a Quote today!
SUNCOR STAINLESS: THE LEADING MANUFACTURER OF STAINLESS STEEL HARDWARE AND COMPONENTS.
To learn more about the world's most complete and highest quality sources for stainless steel hardware and custom parts – visit our Suncor Stainless website. This Plymouth, MA-based company offers a variety of the highest quality stainless steel hardware for industrial, marine, architectural, commercial, government, and OEM markets.
For more information on our stainless steel hardware and custom parts, you may contact Suncor Stainless at 1-800-394-2222 or by completing the Contact Us Form.
Sources:
Home